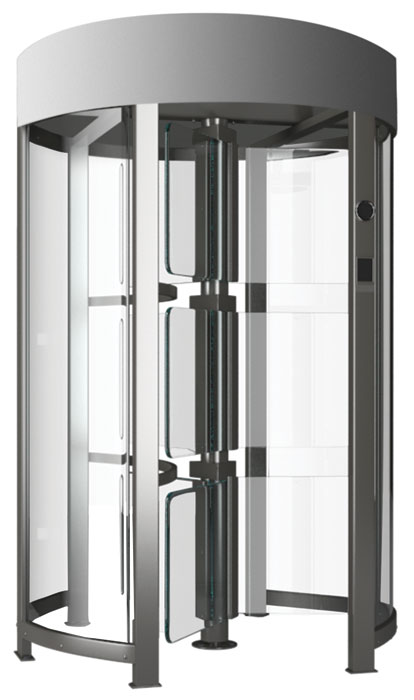 Single Full-Height Turnstile
(indoor application)
servo driven 120° angle

Purpose
You need decent protection and perfomance and no less design and beauty? Then turnstile GlassGO is for you!
GlassGO is a turnstile, built on the principle of the classical rotary Full Height Turnstiles, but with glass blades instead of rods. This turnstile is a real decoration of your site, and to add it will provide protection comparable to classical full height turnstiles.
Modifications
· Housing — brushed stainless steel (basic material).
· Housing — polished stainless steel.
Controlled by
· access control system;
· manual control.
When power goes OFF both directions are closed.
·
To be delivered additionally
· Manual unlocking in case of unavailable power.
· Readers for access control system.
· Remote radio controller.
· Backup battery 12 V, 17 А·h.
· Protective canopy.
· Deskside cabinet with fastening to floor.
Electrical Specifications
· Voltage:
– from the AC (100–240) V, 50/60 Hz.
– from a DC source 12 V.
· Degree of protection according to GOST 14254-96 – IP54.
· Maximum power consumption 150 Watt per pass.
| | |
| --- | --- |
| Length | 1180 mm |
| Width | 1420 mm |
| Height | 2370 mm |
| Passage width | 650 mm |
| Crossing capacity | 20 person/min |
| Weight | not more 470 kg |