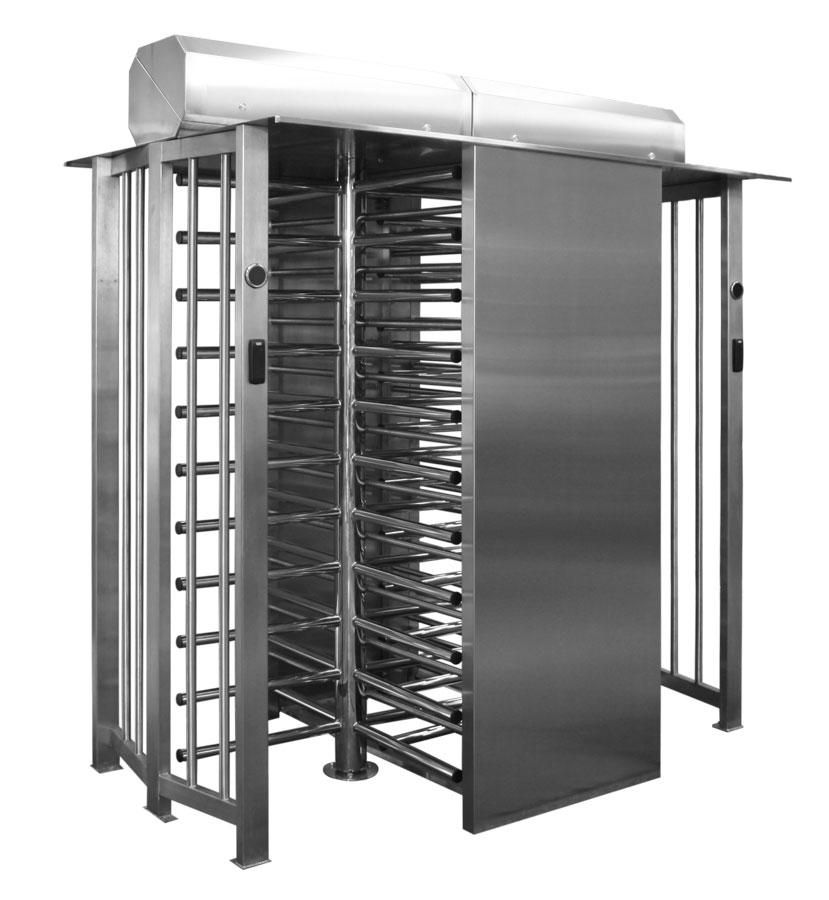 Purpose
The primary purpose is to provide complete barring of an area. It permits single or dual direction control of pedestrian access for enterprises, administrative facilities, banks and other sites as well as for security of protected areas from unauthorized access via a controlled physical barrier. The turnstile provides pedestrian access in the desired direction via actuation of signals from magnetic card readers, keyboards of monitoring access control system (ACS), and manual control panels. Double access design increases crossing capacity of the turnstile.
Modification with 120˚ rotor, you can get a turnnstile with an "air-lock function".
Controlled by
· access control system.
· manual control.
When power goesOFF both directions are closed.
To be delivered additionally
· Manual unlocking in case of unavailable power.
· Reader for access control system.
· Remote radio controller.
· Backup battery 12 V, 17 А·h.
· Protective canopy.
· Deskside cabinet with fastening to floor (full-height, half-height).
·
Electrical Specifications
· Voltage:
– from the (100–240) V, 50/60 Hz.
– from a DC source 12 V.
· Degree of protection according to GOST 14254-96 – IP54.
· Maximum power consumption
Without servo
– indoor 100W,
– outdoor 500W.
Servo
– indoor 300W,
– outdoor 700W.
| | |
| --- | --- |
| Length | 1207 mm |
| Width | 2240 mm |
| Height | 2350 mm |
| Passage width | 649 mm |
| Crossing capacity | 40 person/min |
| Weight | not more 548 kg |