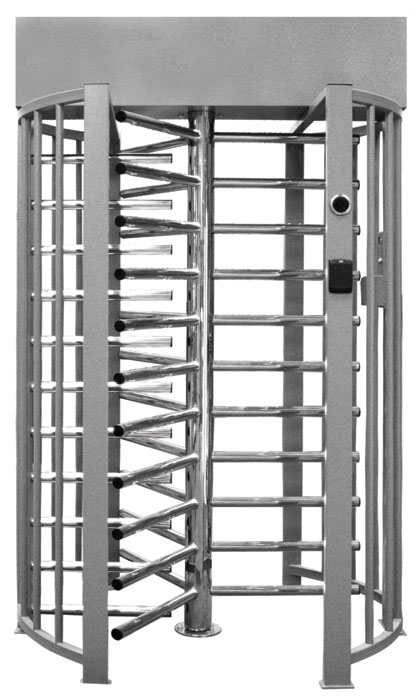 Purpose
Full height turnstile Sesame – a reliable entry port on your territory. You can be sure that the turnstile will provide 100% perfomance in access control. Modification with 120˚ rotor, you can get a turnstiles with an "air-lock function".
Considered construction ensures smooth operation of turnstile for millions of passes even both indoor and open air applications.
The Sesame turnstile available in a double pass version – TWIN type.
Anti vandal rods will keep the rotor solid and invulnerable. Along with various configurations and models of turnstile (material and color options for housing and the angles of the rotor in its turn motorized or mechanical) will breed several types to pick the most appropriate one.
Controlled by
· access control system.
· manual control.
When power goesOFF both directions are closed
To be delivered additionally
· Manual unlocking in case of unavailable power.
· Reader for access control system.
· Remote radio controller.
· Backup battery 12 V, 17 А·h.
· Protective canopy.
· Deskside cabinet with fastening to floor (full-height, half-height).
·
Electrical Specifications
· Voltage:
– from the (100–240) V, 50/60 Hz.
– from a DC source 12 V.
· Degree of protection according to GOST 14254-96 – IP54.
· Maximum power consumption
Without servo
– indoor 50W,
– outdoor 250W.
Servo
– indoor 150W,
– outdoor 350W.
| | |
| --- | --- |
| Length | 1207 mm |
| Width | 1430 mm |
| Height | 2350 mm |
| Passage width | 649 mm |
| Crossing capacity | 20 person/min |
| Weight | not more 375 kg |